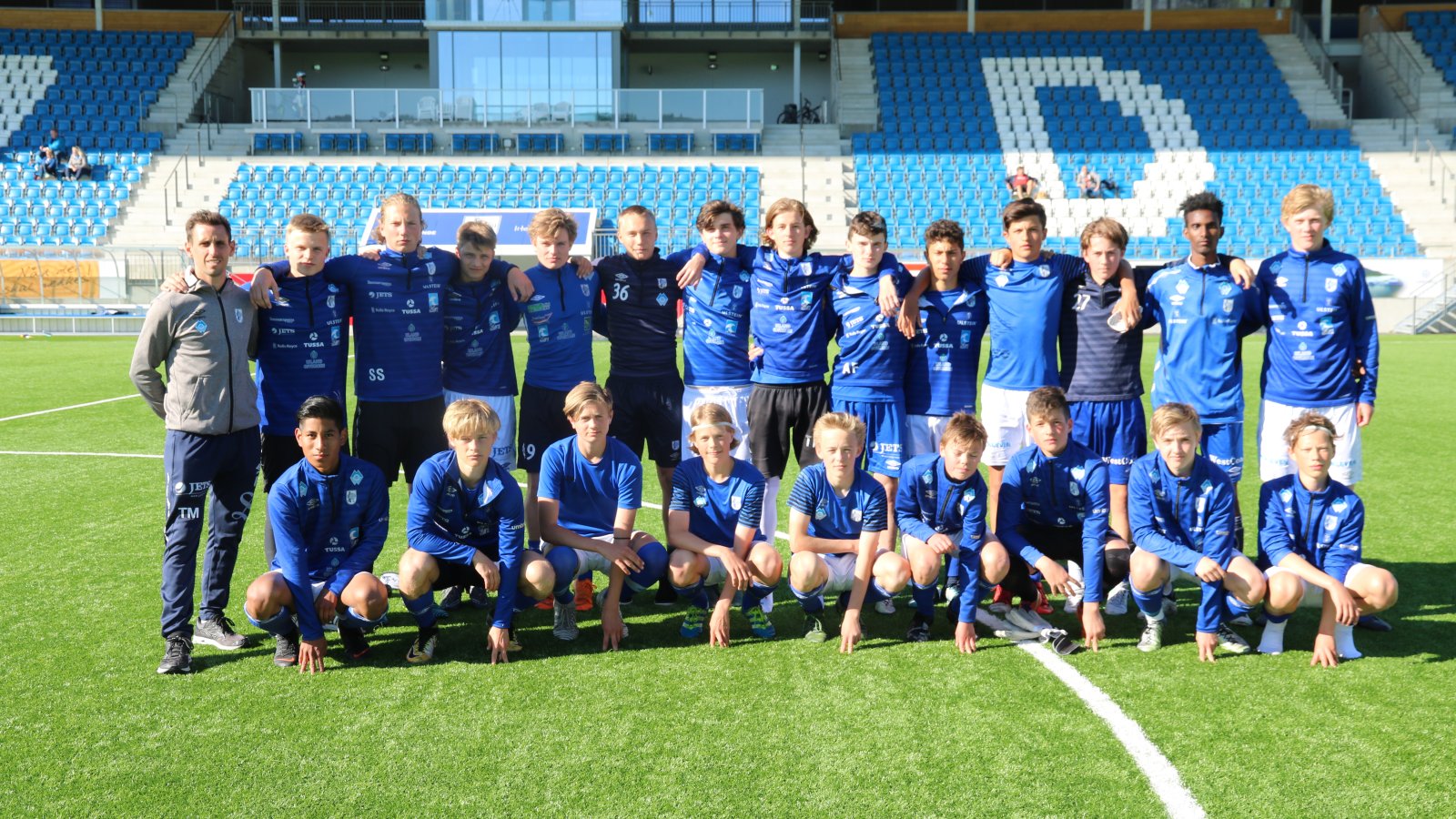 Laurdag spelar Hødd G16 3. runde i NM mot Rosenborg BK. Kampstart kl. 13.30!
Dette er siste regionale runde og med siger over laget frå Trondheim vil Hødd ta seg til nasjonale runder. Vi håper mange tek turen til Høddvoll laurdag og støttar gutane til avansement til 4. runde i NM.
Det blir open kiosk, speakerteneste, visning av kampen på storskjerm og musikk på anlegget!
Kleiven: - Vi skal ta dei!
Hovudtrenar Mahlins om kampen mot RBK
It has been a while since we heard the news that we was to face Rosenborg in the next round of NM Cup for G16, and I think the boys are now excited at the prospect of facing a very strong team. We have made sure our focus has remained on our league games and Adidas Cup and working hard to improve as individuals, but now we have the opportunity to focus this week entirely on Saturday's game. But believe me when I say, the boys are highly confident in their ability to cause a lot of problems to Rosenborg and will be pushing themselves to win the game at home and progress to the next round. In my eyes, that is not a sign of over confidence but a genuine belief in themselves and their team mates.
We as a team, will not be changing our style of play and what we want to achieve in order to counter the opposition. We know we have a team who can press high and win the ball higher up the pitch and that is our intention in this game as well. Some may say it is naivety against a strong team, but we have no pressure on us this weekend. Expectations are on Rosenborg to control the game as the well established team, so we can go out onto the pitch with relaxed shoulders and play how we have always trained to play.
For the boys, it will be a good experience for them and hopefully part of their youth development in the game. Win or lose, we must come off that pitch with no regrets and knowing that we gave everything we could. That builds a culture of "never say die" attitude, striving to be the best they can be, a part of football that is just as important as technical, tactical and physical development. For those who saw our last game at Brattvåg might have seen the opposite of this. But in hindsight, this could have been positive timing. The game hurt the boys afterwards, and myself also. I can see from their responses afterwards that they want to make up for what happened...
We hope to see as many of you at Høddvoll, 13:30 Saturday as possible! It is not often that Rosenborg visit Ulsteinvik and the boys would appreciate all the support they can get! Free admission to all!
Tropp
Isak Moen Endal, Simon Skeide, Martin Melø, Sondre Gjerdsbakk, Andreas Ulfstein, Erlend Skeide, Daniel N Brandal, Noah Mork, Mikael Beckers, Fredrik Dimmen Gjerde, Iver Skeide, Sindre Kleiven, Olai Bjørdal, Tobias Pettersen Hatløy, Andreas Fjørtoft, Marcus Dimmen, Mahad JR Ushey, Asbjørn Wiig Sævik.
Vi ønskjer laget lykke til i kampen mot RBK laurdag!